Review of Pao's Sapa Leisure Hotel: What makes you want to stay forever? A 5-star hotel with a variety of services, providing an unforgettable experience during your stay in Sapa. Explore the impressive features and reasons why Pao's Sapa Hotel is known as the "Most Beautiful View Hotel in Sapa."
Review of Pao's Sapa Leisure Hotel from A to Z
Pao's Sapa Leisure Hotel is one of the first 5-star hotels in Sapa, operating since 2017. Located at 7A Mường Hoa Street, Sapa town, Lao Cai province, the address of this 5-star hotel is easily recognizable, prominently situated near the Muong Hoa Valley and close to the attractions of Sapa town.
Review of Pao's Sapa Leisure Hotel – The Best Location in Sapa
Pao's Sapa Leisure Hotel resembles a magnificent castle from ancient fairy tales. Perched on a hill enveloped in mist throughout the year, it exudes grandeur and elegance. Amidst the enchanting mystical mountain forest, the architecture stands out impressively. This is truly a paradise for those who want to immerse themselves in nature.
Especially during the cloud-hunting season in Sapa, you will be amazed by the sea of clouds surrounding the hotel. Standing on the balcony or by the windows of your room, you will witness and feel the magnificent scenery of Sapa's mountainous forests. The beauty of the space and the grandeur of nature are sure not to disappoint.
[BOOK NOW] ♥ Pao's Sapa Leisure Hotel 2D1N Package + Round-trip Shuttle Service
Pao's Sapa Leisure Hotel is only 4 km away from the Fansipan Legend cable car station and 8 km from the Silver Waterfall. Being in the central area, the resort's surroundings include local markets, restaurants, cafes, and modern shopping areas. Along with that, the hotel features a 5-star system of facilities and amenities, ensuring it meets every resort need of the guests.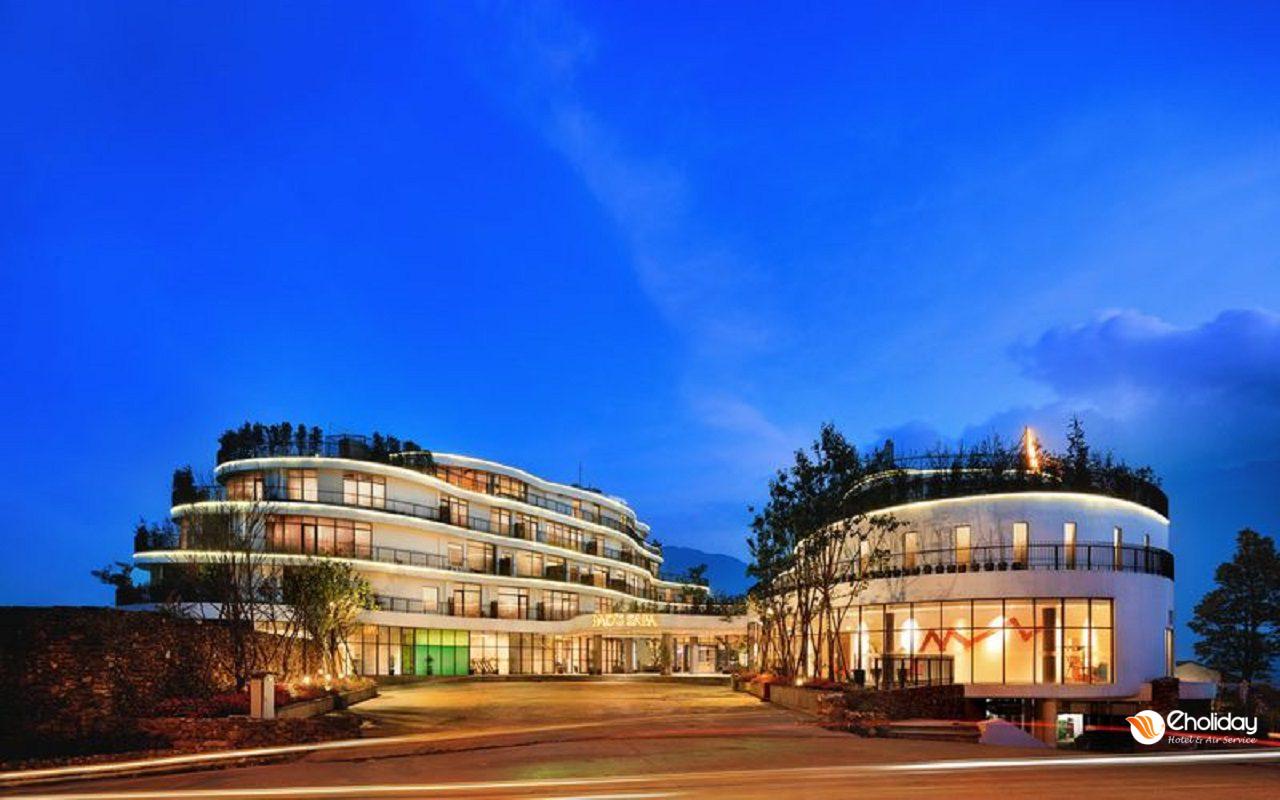 Why is the hotel named Pao's Sapa Leisure? Pao's Sapa Review
"Pao" is the name of a traditional game played by the H'mong ethnic people in Sapa. Additionally, "Pao" is also the name of the main character in the very famous film "The Story of Pao." With the long-standing familiarity of this name "Pao," Pao's Sapa hotel seems to carry the cultural beauty of the H'mong ethnic people in this area, evoking deep impressions in everyone's hearts.
⇒ Complete Sa Pa 2023 travel experience from A to Z
Impressive design, a blend of modern and traditional elements
Not only does Pao's Sapa Leisure boast a stunning view, not exaggerating to say it has the most beautiful view in Sapa, but the hotel also features an impressive design inspired by the terraced fields of the Northwest. The style is a blend of modern and traditional, with a minimalist approach that maximizes natural light, providing a comfortable and pleasant feeling for travelers.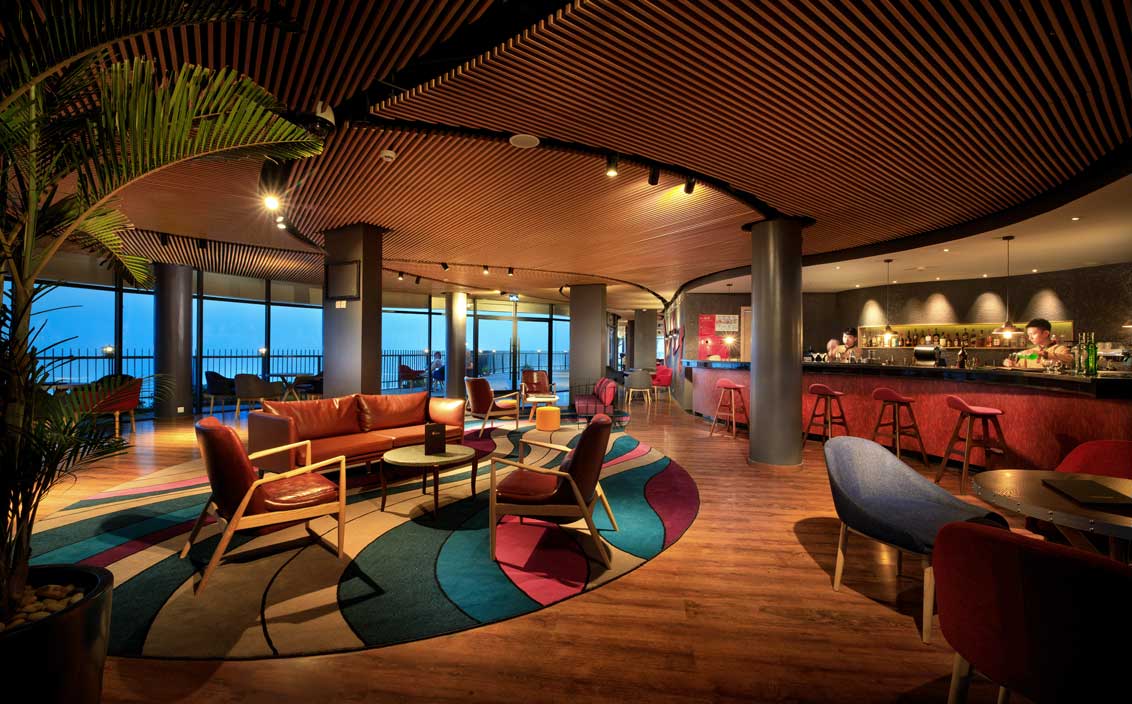 You will be impressed by the skillful combination of tradition and modern convenience in the interior design of Pao's Sapa Leisure Hotel. Traditional elements are clearly expressed in the highlighted details in the rooms, restaurants, or right in the hotel lobby. The spacious and comfortable atmosphere in each room ensures a true 5-star vacation experience. Pao's Sapa Review and many travelers rate it as the hotel with the most beautiful view in Sapa.
Getting to Pao's Sapa Leisure Hotel
Pao's Sapa Hotel is located in cluster 7A on Muong Hoa Street, about 1 km from the center of Sapa town, making it very convenient to travel. You can explore the winding mountain roads and enjoy the scenic views by moving around on a motorcycle. For a safe and comfortable rest, you can also book a premium sleeper Limousine to Sapa. Contact the booking hotline at 0981.655.564.
[BOOK NOW] ♥ Pao's Sapa Leisure Hotel 2D1N Package + Round-trip Shuttle Service for only 2,165,000VND
Review Pao's Sapa Leisure – 5-star room system Review
Pao's Sapa has 233 rooms with 3 main room categories: Suite, Deluxe, and Classic. They are divided into various room categories to best serve specific customer groups. All are luxurious, modern, and fully equipped with amenities. The 5-star facilities include air conditioning, TV, kettle, bathrobe, and hairdryer. Among them, Classic is the lowest category, and Suite is the highest. The Suite category is also equipped with a private Jacuzzi and a view of Muong Hoa Valley.
Review Pao's Sapa Leisure – Suite Room
Including 4 smaller room types: Family Suite, H'mong Suite, Red Dao Suite, and Pao's Suite. If you are traveling with a family of about 4-6 people, Pao's Sapa Review recommends choosing the Family Suite category. This is undoubtedly the perfect choice for your family vacation. If you are traveling in a group of 2-4 people and want to experience the highest level of service, choose H'mong Suite or Red Dao Suite.
Pao's Suite leaves an impression with elegant interior details, designed specifically for travelers who love luxurious, upscale resort styles. It has 02 bedrooms, a living room, and a private bathroom with a Jacuzzi. The large balcony with an area of 18m2 is the best spot to enjoy cloud-hunting and admire the Muong Hoa Valley.
The Red Dao Suite boasts a spacious area of up to 84m2, featuring a separate bedroom and living room. Along with a generous and airy balcony adorned with ancient peach trees, it forms an expansive outdoor space. Here, you will have the opportunity to enjoy a breathtaking view that embraces the picturesque Muong Hoa Valley. This is undoubtedly the most luxurious and tranquil retreat space at Pao's Sapa Hotel.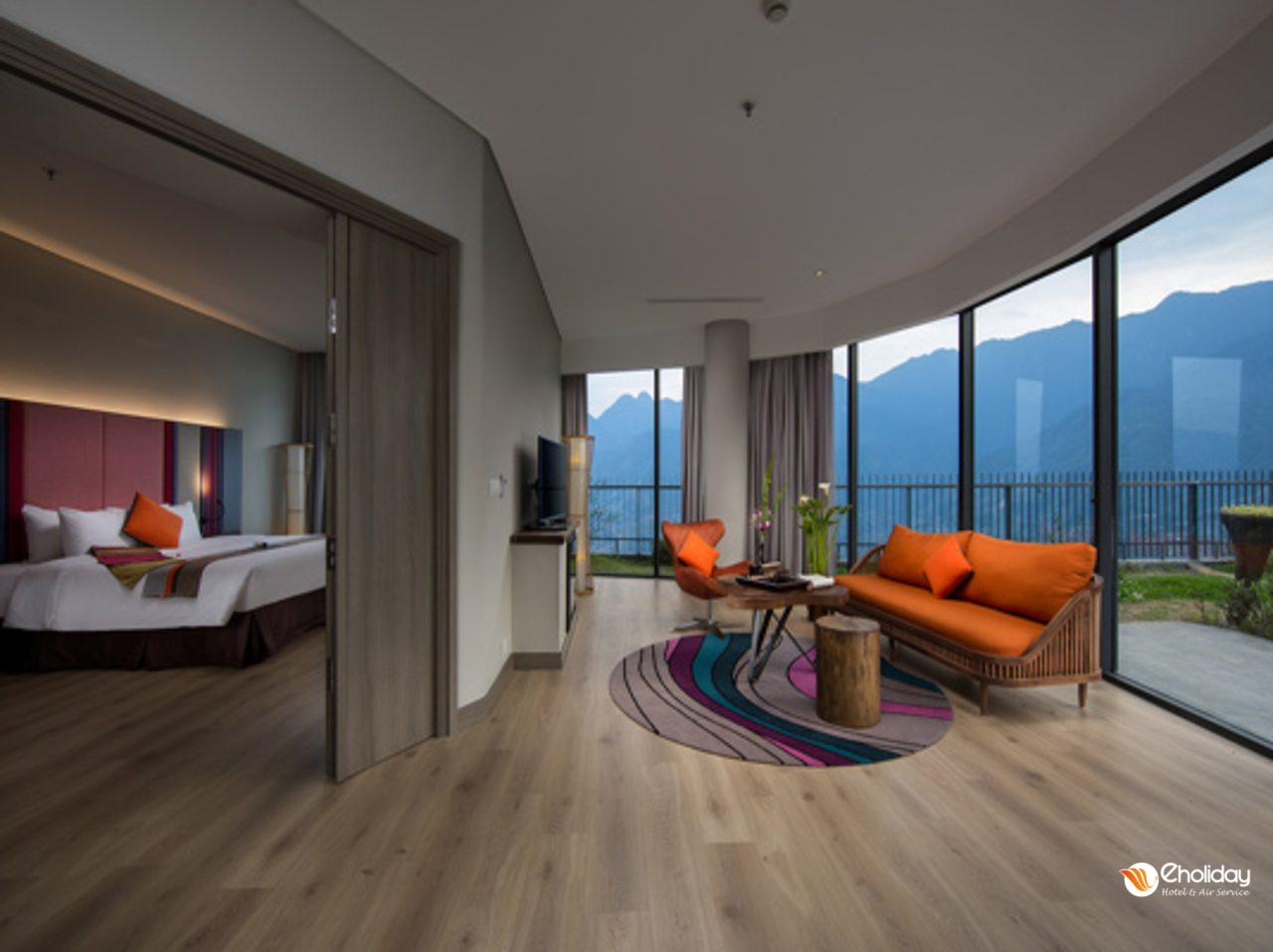 The H'mong Suite at Pao's Sapa Leisure Hotel is impressively designed with a separate bedroom. The room size goes up to 64m2, accompanied by perfect amenities and a spacious open balcony. All of these promises to provide guests with an ideal space to relax after a long day of exploring and shopping in the beautiful town of Sapa.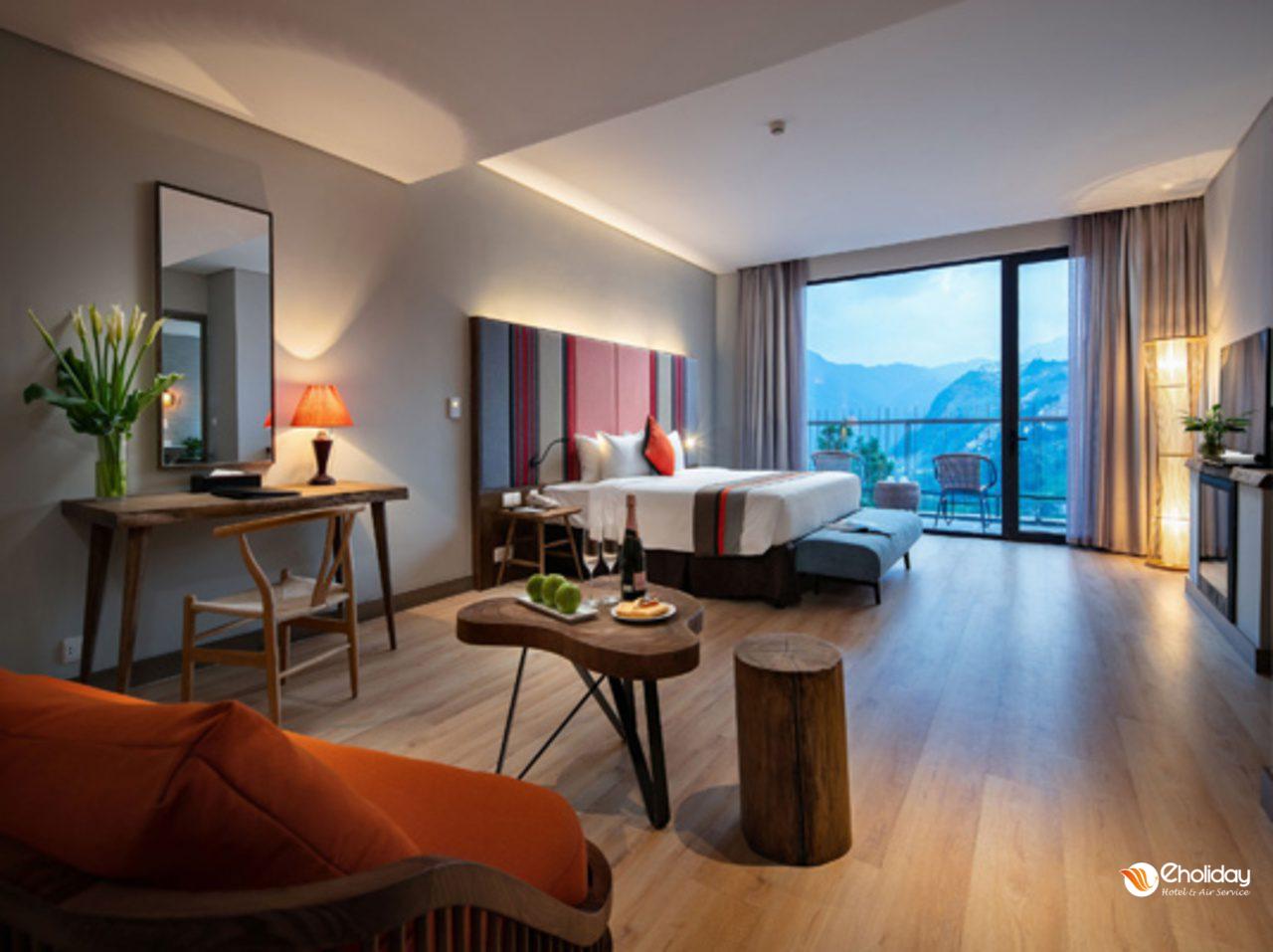 [BOOK NOW] ♥ Pao's Sapa Leisure Hotel 2D1N Package + Round-trip Shuttle Service for only 2,165,000VND
Review of Deluxe Rooms at Pao's Sapa Leisure Hotel
The Deluxe room category includes four types: Garden View, Valley View, Super Deluxe, and Premium Deluxe. Pao's Sapa reviews all room categories as having basic amenities and ranging in size from 30m2 to 45m2. The only difference is likely in the room location and the view.
The Garden View room is situated on the first floor, featuring a private balcony and a view overlooking the garden.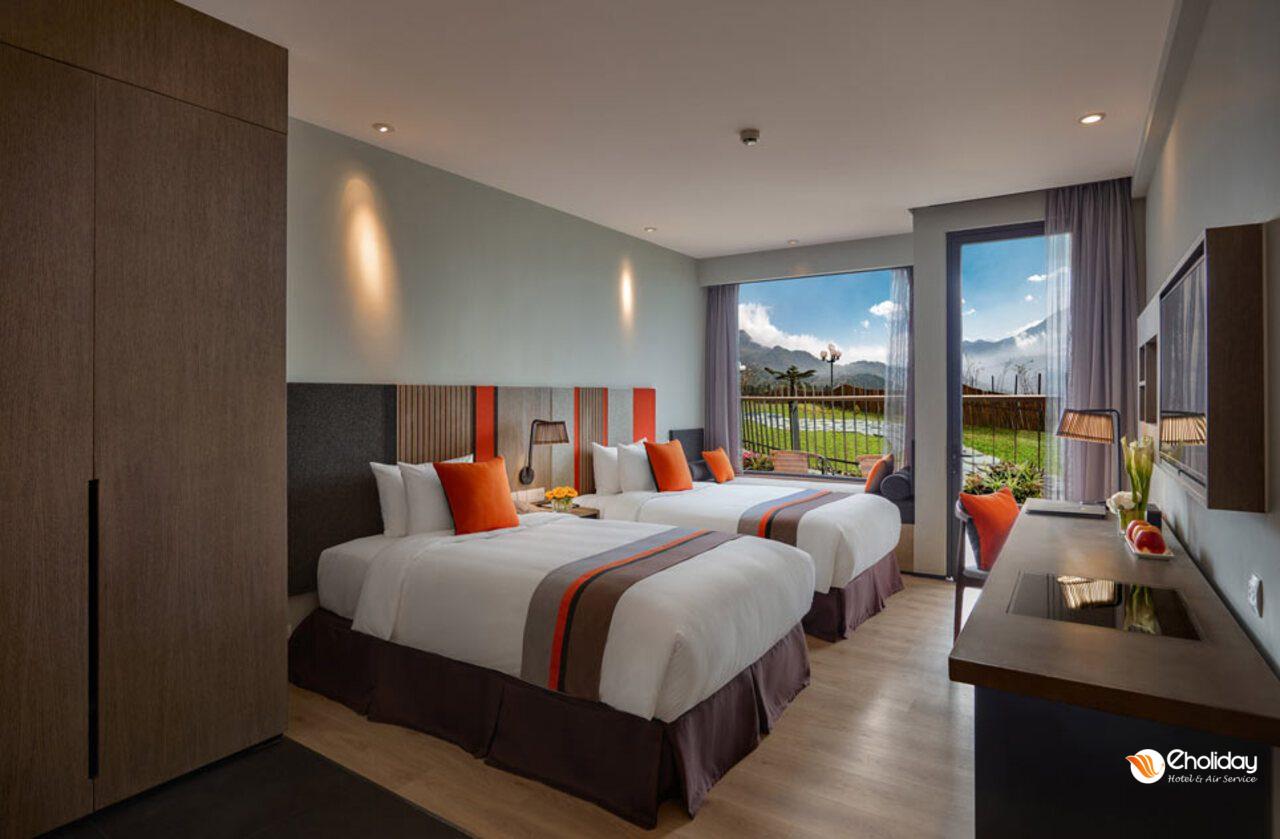 The Valley View room is located on the second to fourth floors. It features a romantic balcony with a panoramic view that embraces the pristine beauty of the Northwest sky.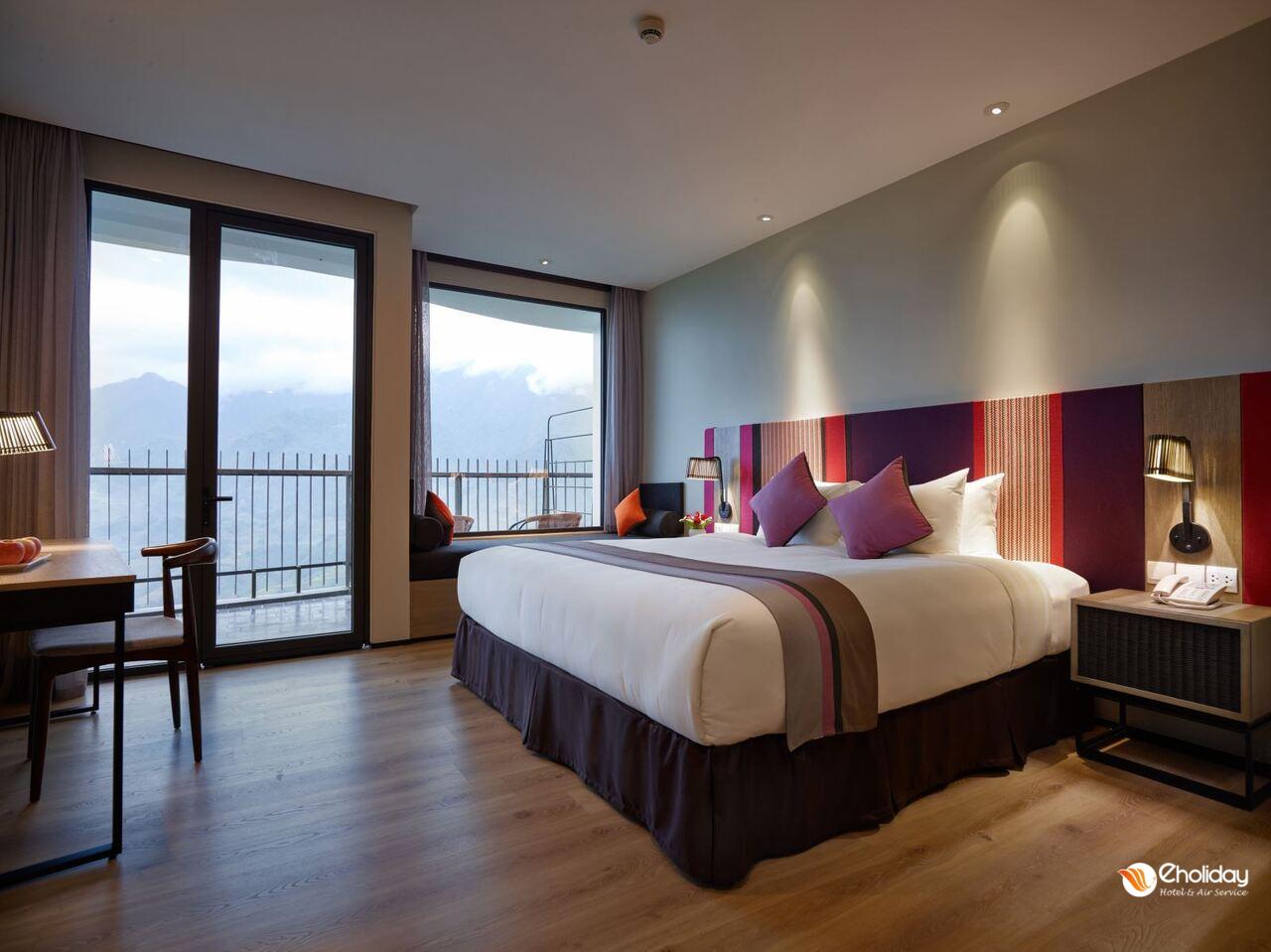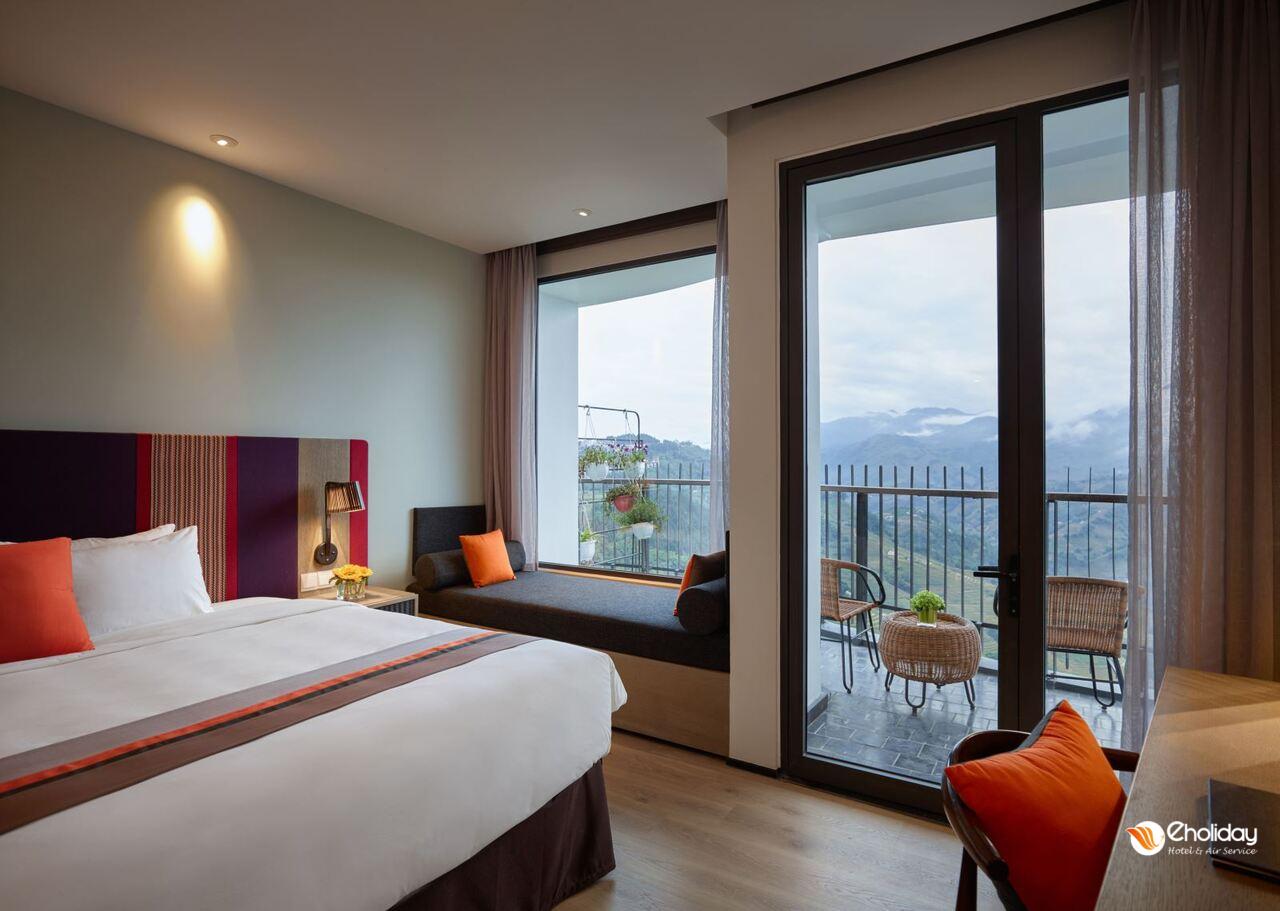 The Premium Deluxe room has an area of up to 45m2 with a private balcony. It captivates guests with a modern design, featuring a separate bedroom and living room. Harmonizing with decorative details inspired by Sapa, from the balcony, you can enjoy a panoramic view of the picturesque Muong Hoa Valley.
Classic Room – Pao's Sapa Leisure Hotel
This is the most basic room category at Pao's Sapa Leisure Hotel. With an area of 30m2 and a balcony overlooking the garden, it provides all the necessary amenities. Bringing you to experience the standard resort space in the heart of Sapa.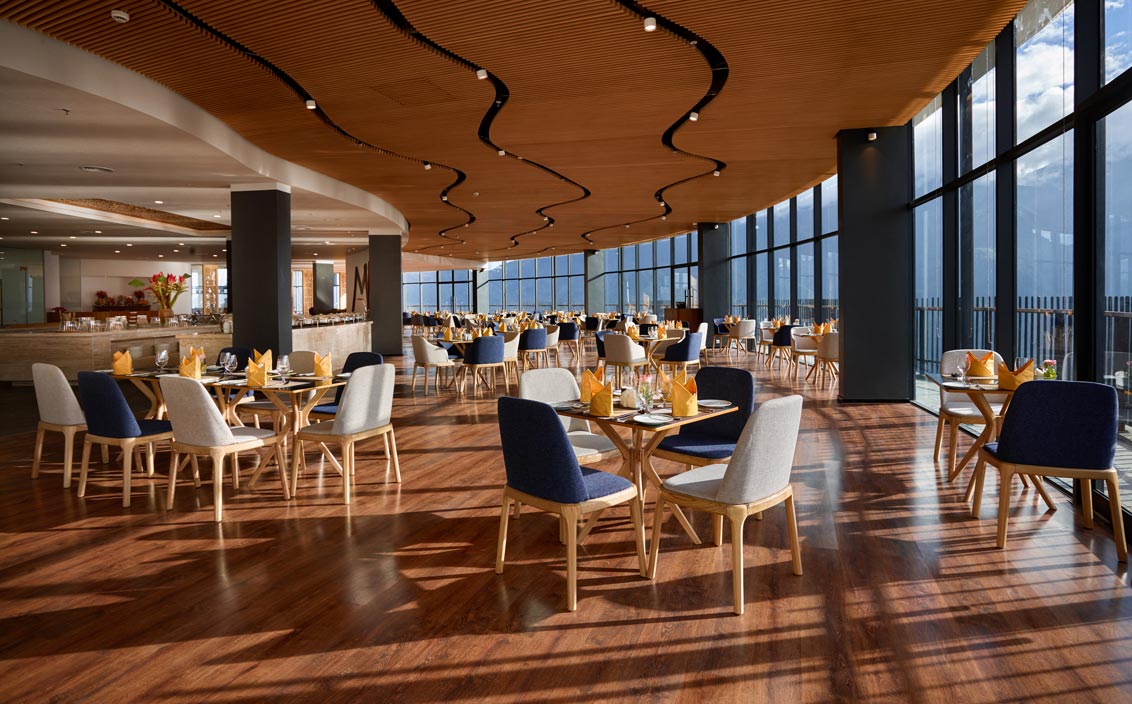 Furthermore, upon checking in and receiving your room at Pao's Sapa Hotel, you will also enjoy a Welcome Drink at the Lobby Lounge in the lobby. In the evening, you can indulge in various dishes and drinks at MK Rooftop Restaurant & Bar. This "restaurant in the clouds" stays open until midnight. You can leisurely sip a cocktail or enjoy a barbecue party amidst the mystical nature of Sapa's mountainous town.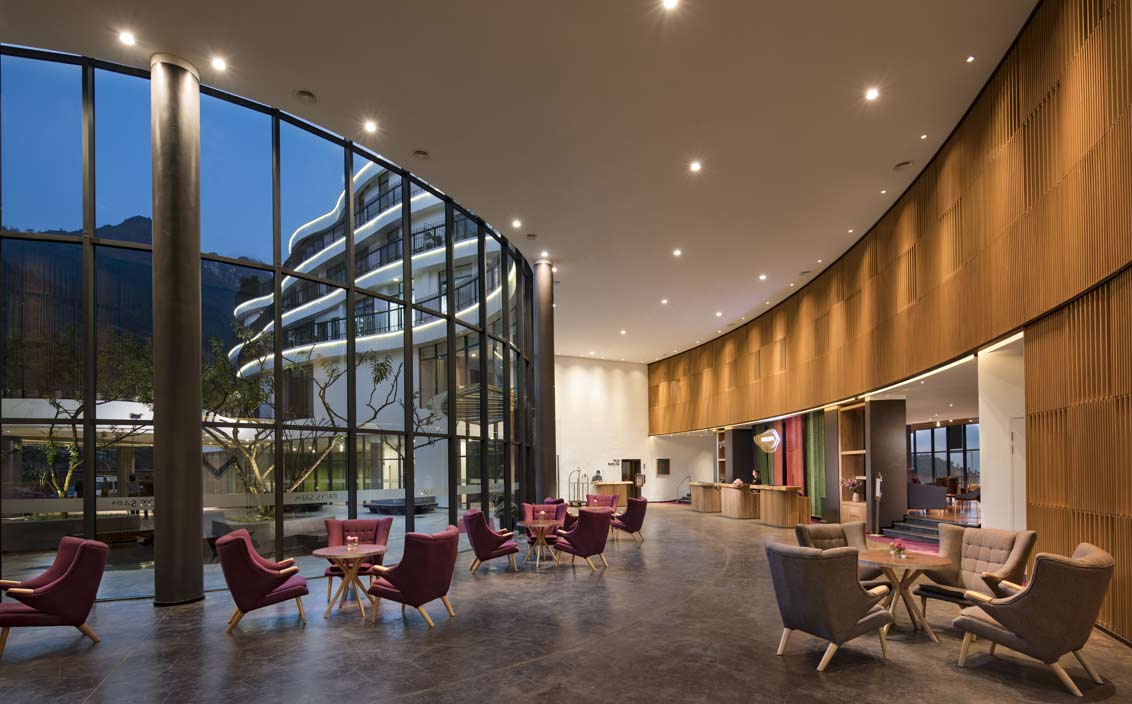 Surrounding the hotel, there are many other restaurants and eateries. You can explore and enjoy unique dishes along the way to the town center. Don't miss the opportunity to taste specialties such as colorful sticky rice, bamboo rice, "thắng cố" (a traditional dish), kitchen defender meat, and more. There's a culinary journey waiting for you to discover in Sapa.
"Day and Night" Entertainment at Pao's Sapa Leisure
When you come to Pao's Sapa, you absolutely cannot miss the beautiful photo spots at the swimming pool. Pao's Sapa's four-season swimming pool is located on the 2nd floor of the hotel. It is the most modern hot spring pool with a stunning view of the Sapa mountainous forest. Next to the pool is the Pool Bar, serving from 9 am to 10 pm. The bar offers light meals, ice cream, fruit juices, tea, coffee, and colorful cocktails.
Especially, Mẩy Club is located on the 3rd floor of Pao's Sapa Hotel with sophisticated design and excellent service. Mẩy Club is an attractive destination, catering to the entertainment needs of dynamic young people. It promises to become the leading entertainment center in Sapa. In the evening, if you don't know where to go, Mẩy Club, Bar L.A, and 8 modern Karaoke rooms are ideal choices to chill with friends.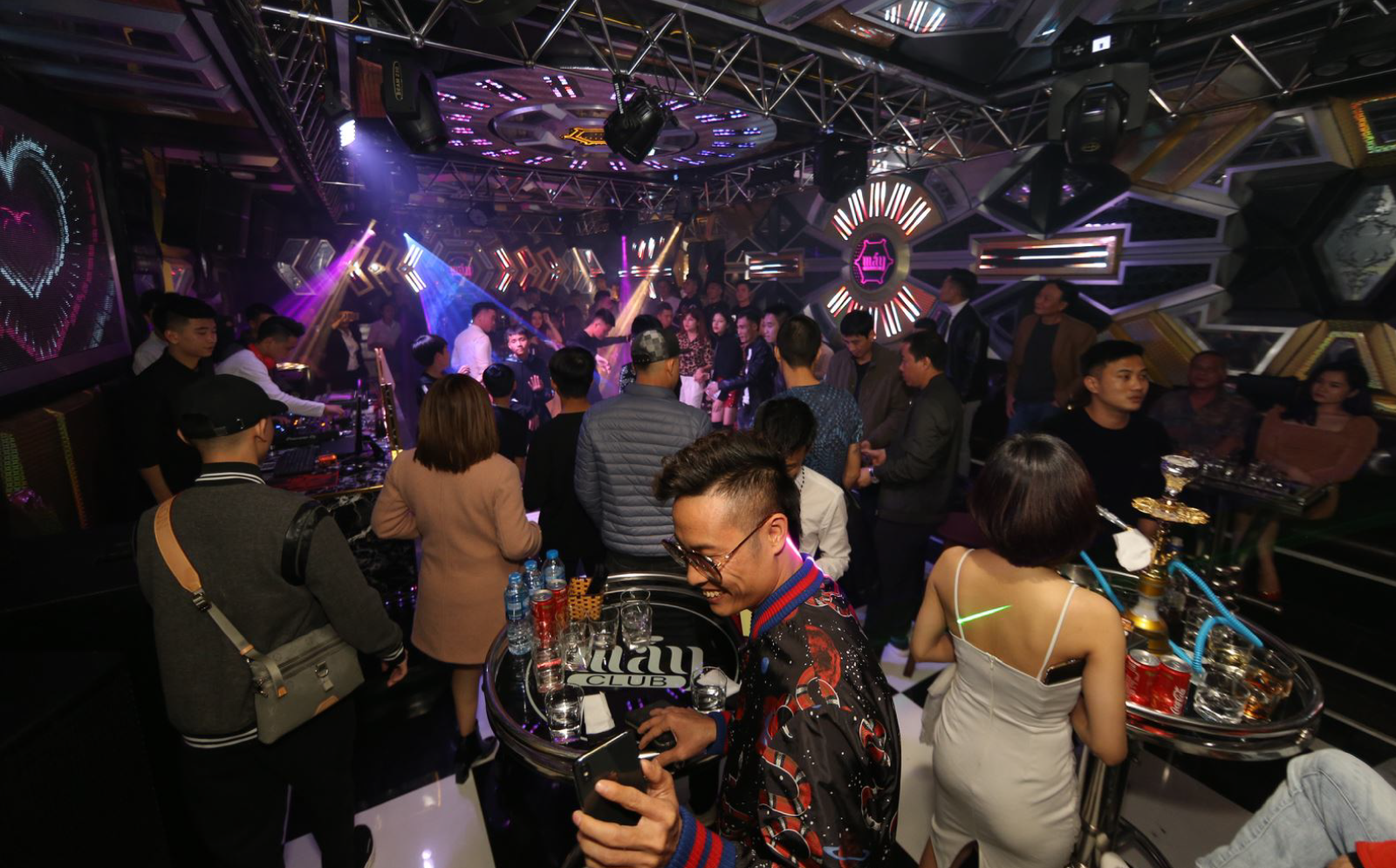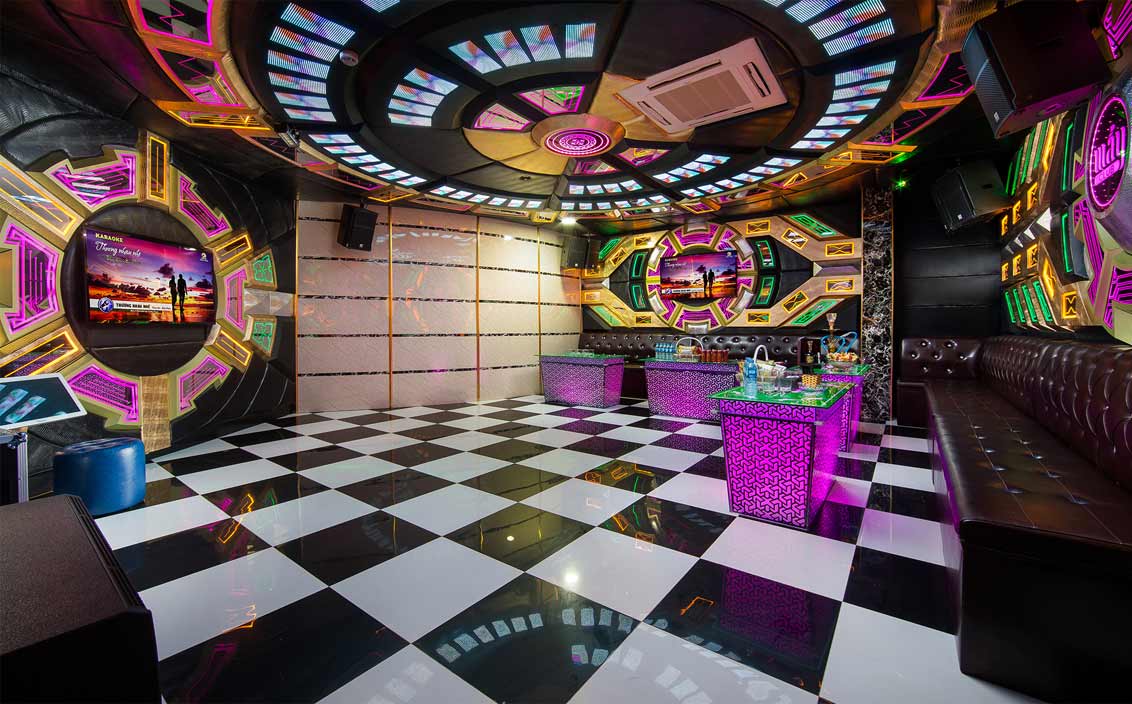 Additionally, according to reviews of Pao's Sapa, if you want to maintain your physical fitness to keep in shape, you should visit Pao's Fitness. Pao's Fitness is equipped with a modern system of machines, ensuring to meet the strictest requirements. Pao's Fitness also features a TV system connected to satellite television, allowing you to both exercise and enjoy engaging TV programs.
Relax with premium spa services at Mẩy Spa
If you prefer not to engage in intense physical activities, you can choose to visit the spa, enjoy a sauna, and indulge in relaxing massages or immerse yourself in a traditional Red Dao herbal bath at Mẩy Spa. Experiencing the care and pampering of your body after a day of exploring the misty mountain town helps you regain balance and dispel fatigue. The modern integrated relaxation system in the 3 zones at Mây Spa is the best choice to prepare for the journey to explore Sapa the next day.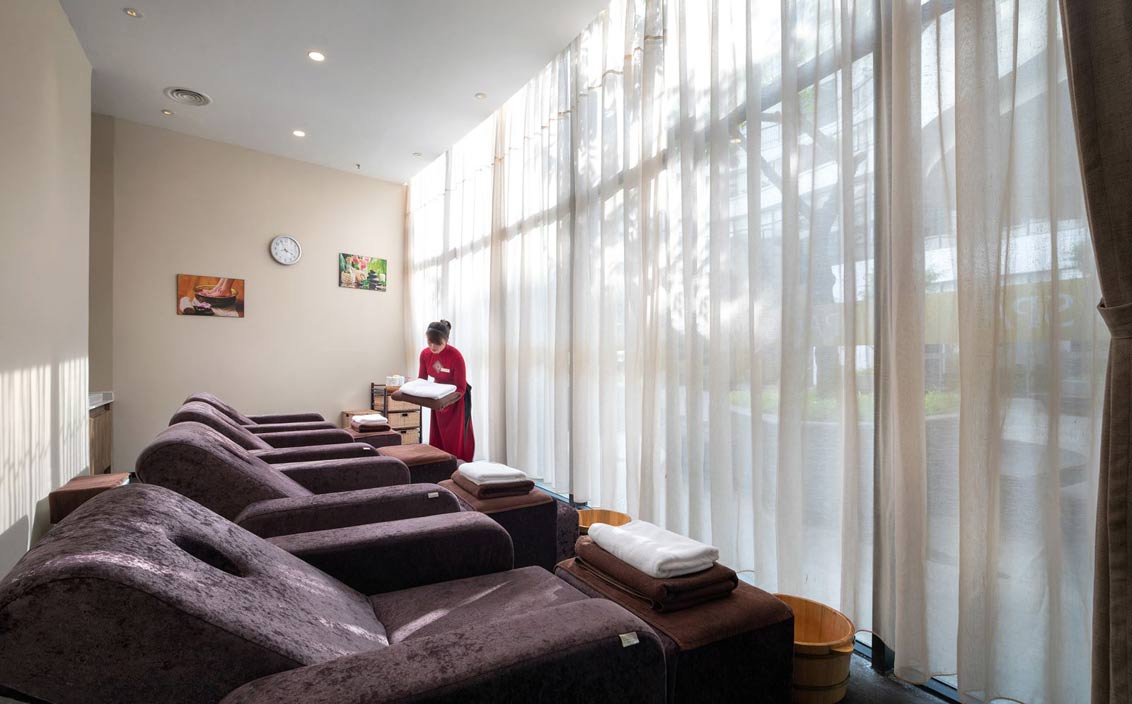 According to Pao's Sapa review, Mẩy Spa serves a limited number of 10-15 guests per time slot. It is advisable to pre-book the spa service at the reception desk from the day before.
⇒ Comprehensive Sapa Travel Experience 2023 from A to Z
⇒ Top 10 Cafes with the Most Beautiful Views in Sapa – Gen Travel
Tourist attractions near Pao's Sapa Leisure Hotel
Pao's is only 900m away from the center of Sapa town – Sapa Square. From here, tourists can easily reach famous tourist spots in Sapa such as Sapa Market, Stone Church, Sapa Night Market, Ham Rong Tourist Area, Cat Cat Village, Fansipan, Love Waterfall, and more.